A few words from Fr. Patrick: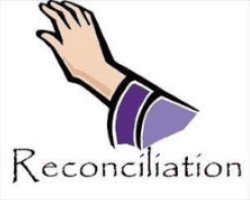 A few words form Fr. Patrick:
The Sacrament of Reconciliation
Lent is a penitential season in which the Sacrament of Reconciliation is prominently celebrated. Given the present pandemic, those at risk because of age and/or infirmity as well as the chronically ill may not want to or should not gather in large numbers and are free to remain home. I want to offer some comfort that comes to us from the Code of Canon Law of the Catholic Church. The Catholic faithful are required to confess their grave (mortal) sins to a priest … at any time during the year (can. 989, 991). Strictly speaking, persons free of grave sin are not required to
make an annual confession, but all Catholics are encouraged to bring even their venial sins to confession (can.988).
I want you to recall that the celebration of the Eucharist is our primary Sacrament of Reconciliation. When we are mindful of our venial sins and receive the Lamb of God who takes away the sins of the world, we are freed from them and to begin anew. – Father Patrick