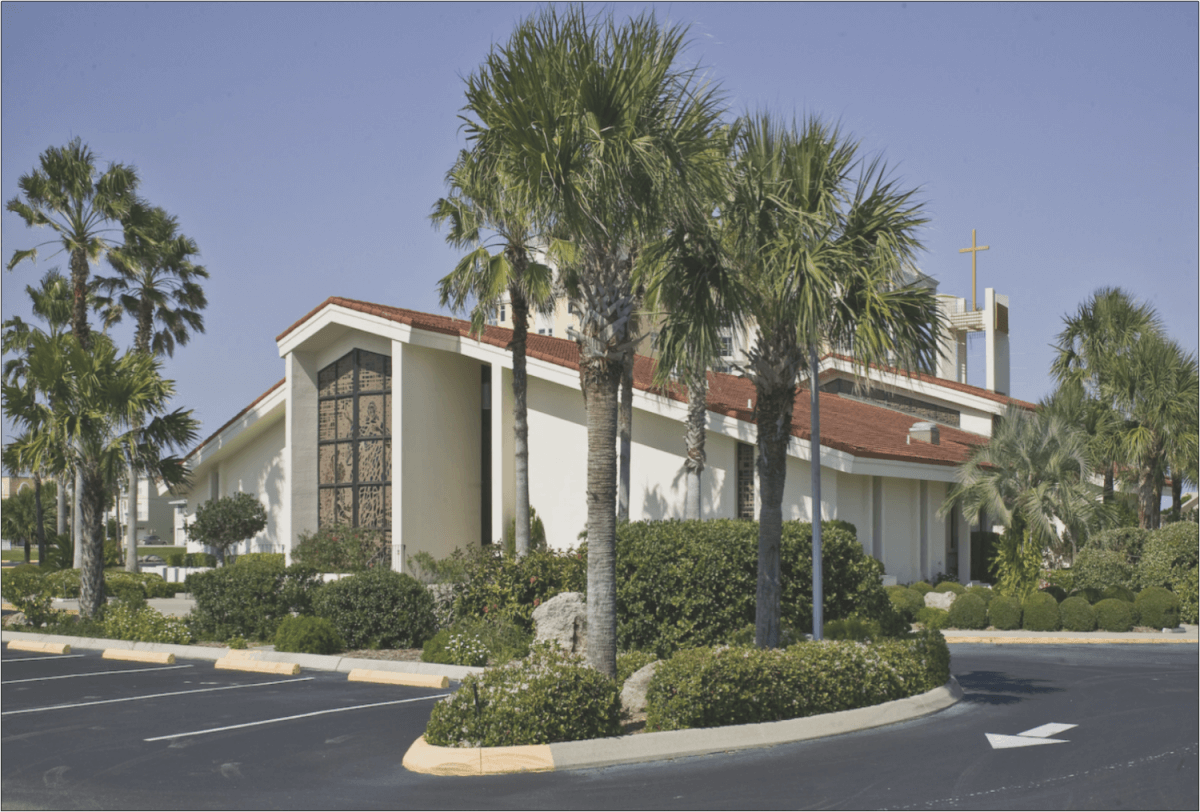 As you may know, the Diocese of Orlando recently announced plans to safely and gradually reopen parishes for liturgical celebrations and the sacraments. While the Diocese has established general guidelines, each parish will be reopening in a way that best serves the needs of its staff, volunteers, and parishioners.
Here at Our Lady Star of the Sea, we are eager to be able to gather together again at the table of the Lord! After much prayer and discussion, we have set in place the following schedule:
– The parish office will remain open for mass cards and food donations during the week (Monday-Thursday from 9:30-4:30 and Friday from 9:30-12). The office phone will be answered remotely during these hours.
– Beginning on Monday, May 11th, the Sacrament of Reconciliation will be made available by appointment. Please call the parish office to set up a time to meet with Fr. Patrick in his office where social distancing can be maintained.  Appointments are available on Monday May 11, from 9:30-11:30;Tuesday from 1:30- 2:30; Wednesday from 4:00-6:00.
It is important to remember, the Sunday obligation to attend Mass was lifted by Bishop Noonan when the parishes closed in March and remains lifted.  This means that missing Sunday mass is not a sin that anyone needs to confess.  Likewise, if you are not feeling well or have a precarious health issue do not feel any pressure to attend.
– Weekday Masses (Mon.-Fri.) will begin again on Monday, May 18th, at 8:30am. The doors will open at 8:00am.  All the safety protocols recommended by the Diocese of Orlando will be followed (see the link below).
– May 30-31 marks the return of our weekend schedule. The Mass for the Feast of Pentecost will be celebrated on Saturday, May 30th, at 4:00pm and on Sunday, May 31st, at 9:00am and 11:00am.
Because of the pandemic there are some procedural changes made with regard to entering the church only from the main entrance on the parking lot side; no holy water will be available in the fonts and no collection baskets can be passed around at the Offertory, but baskets will be made available in the narthex of the church to collect offertory donations.
(Please be aware that we will only be able to accommodate 25% capacity in the church and we will have to deny entrance once we have reached capacity.)
When you come to church please wear a mask, use hand sanitizer, and observe the social distancing guidelines set in place.
You can find more details and Bishop Noonan's message here:
https://www.orlandodiocese.org/bishop-noonans-reopening-message/

Even as parishes begin to open, the obligation to attend Mass on Sundays is suspended until further notice. If it is in your best interest to remain home due to illness, vulnerability to illness or the vulnerability of those you care for, you may continue to participate in the liturgy from home. We desire that all of our parishioners remain healthy. If that means staying home, please do so!
As more details develop, updates will be posted here on our website.